One year ago, Ambulance Wish WA representatives were in Rotterdam, joining members and delegates from all over the world at the first international conference of Ambulance Wish Foundations.
During the conference, attendees from Austria, Brazil, Ecuador, England, Germany, Israel, Italy, Japan, the Netherlands, Spain and Australia (Queensland, Victoria and Western Australia) were introduced to the work of each of the international Ambulance Wish charities and how they are fulfilling a wide range of wishes. In addition to discussions on sharing research on the benefits of fulfilling last wishes and how the charities can support each other around the world, good friendships were forged between ordinary people with one common theme – wanting to fulfil final wishes for terminally ill patients.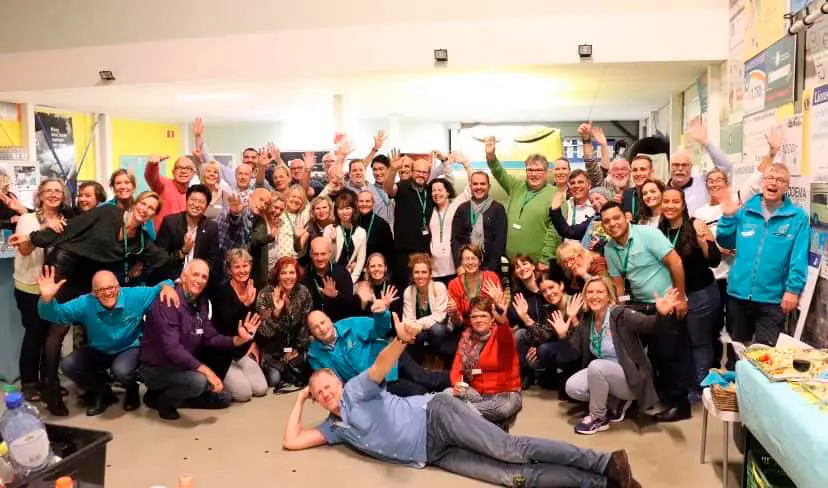 At the time of the conference, Ambulance Wish Western Australia was just a series of hopes and dreams and a name written on the top of an Incorporated Association application form lodged with the West Australian government. One year later, it is a Charity registered as a Public Benevolent Association with the Australian Charities and Not-for-profits Commission (ACNC) and has Deductible Gift Recipient endorsement from the Australian Taxation Office. A partnership with Palliative Care WA is assisting Ambulance Wish Western Australia to provide the highest quality care for its wish recipients and will hopefully help its integration into the WA palliative care sector.
2020 has changed the world. In addition to the huge loss of life, the devastating effects of COVID-19 pandemic measures, such as closed borders, travel bans, lock-downs, isolation and quarantine, and their effect on business and global recession, has affected how charities around the world both fundraise and undertake their activities. For some international Ambulance Wish charities, this has seen final wish fulfilment deferred, while others have been able to fulfil a few wishes with the use of appropriate personal protective equipment. Others took on other roles, such as food parcel delivery to those in need, as lock-downs prevented wish fulfilment. Job losses, financial insecurity and business losses have also reduced charity income and fundraising opportunities.
Although Western Australia appears to be coping better than many other States and countries, Ambulance Wish Western Australia's initial hope of fulfilling its first final wish by the end of 2020 is unlikely to be achieved. The planned official launch of Ambulance Wish Western Australia in early 2020 was postponed due to COVID-19 and, while life has largely returned to normal in Western Australia (WA), fundraising opportunities and donations are still limited, especially with the whole financial uncertainty of the future. The Management Committee for Ambulance Wish Western Australia has taken this time to develop the organisation's governance, policies and procedures and recently started its fundraising activities as we work towards making the charity an established and sustainable part of WA palliative care. 
Fundraising for the first Wish Ambulance commenced this spring and the Management Committee are currently finalising the volunteer application and training programme. When 50 per cent of our $150,000 Wish Ambulance target is achieved, the formal volunteer clinicians recruitment and training programme will commence, ensuring that they have the required knowledge and skills to safely convey the wish recipients on their final wishes. Once the commissioning date of the Wish Ambulance is known, the wish programme will be opened.
The charity has developed a wide range of policies and procedures, covering corporate governance and medical care, including clinical governance, medication safety and infection control. Ambulance Wish Western Australia is choosing to comply with the Australian Commission on Safety and Quality in Health Care guidelines wherever possible, including being registered under their National Hand Hygiene initiative.  Copies of their policies have also been shared with another Ambulance Wish charity as part of the international Ambulance Wish support network. The volunteer clinician and support staff uniforms have also been designed and there is a box of adorable Peppi mascots ready for the first wish recipients.
---
One year ago, Ambulance Wish Western Australia representatives were in Rotterdam, joining members and delegates from all over the world at the first international Ambulance Wish conference.
At the end of the conference, each of the international Ambulance Wish institutions were presented with a hand-made sculpture and card with the artist's motto "There is no such thing as not being able to do anything, where there is a will, there is a way" and message from Kees Veldboar, director of Stichting Ambulance Wens, "without volunteers no-one volunteers, thank you for your commitment" (translated).
These inspiring words, along with the support and encouragement from the international Ambulance Wish community, has encouraged the charity's Management Committee to develop Ambulance Wish Western Australia from a series of hopes and dreams to an established charity.