Ambulance Wish Western Australia
Granting the wishes of the terminally ill

Fulfilling wishes, celebrating lives
Fulfilling wishes, celebrating lives
Ambulance Wish Western Australia enables people receiving palliative care or who are terminally ill to fulfil a final wish by visiting a place of personal significance, for example, to admire their own garden, to feel the breeze of the beach, or to be surrounded by their loved ones and pets.
Medically trained volunteers and specialised vehicles provide the means to make these final dreams come true. It's usually the little things that mean the most to a person nearing the end of their life.
Fulfilling final wishes
Ambulance Wish Western Australia's mission is to give people in end-of-life care the resources, specialist transport and medical care they need to fulfil their final wishes, at no cost to the Wish Recipient or their family. The service is entirely donor-funded and staffed by medically trained health care professionals who volunteer their time.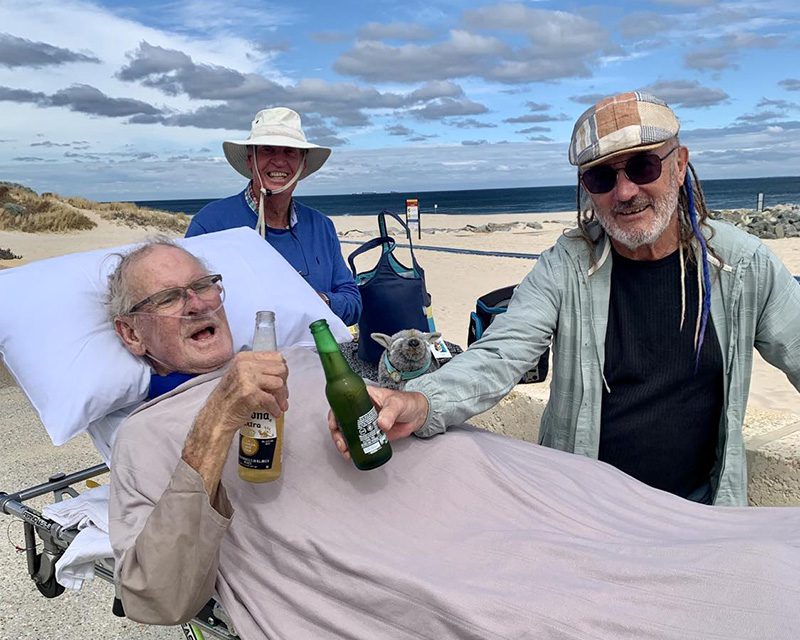 What would be your last wish?
Would you want to feel the wind on your face while watching the waves crash onto the beach; watch the birds soar above the hills; or the sunlight shining through the trees and shimmering on the river?
Would you prefer to say goodbye to the family pet; attend your daughter's wedding; or say hello to your sibling or new-born grandchild?
Have one last day at home with mum and dad, visit the art gallery, zoo or rugby; have a beer with your mates; or visit your husband's grave one last time?
Peppi would like to extend his cordial invitation to a Teal and Turquoise High Tea. Fine teas will be brewed, delicate delights shall be enjoyed and funds shall be raised to continue the 2023 Final Wish Programme.
A smart affair, Peppi will honour the wearer of the best dressed, reflecting the teal and turquoise theme, with a door prize.
Bring your friends – even your favourite tea cup (saucer not required!) – and join us for Ambulance Wish Western Australia's first major fundraising event, including a silent auction.
Merchandise ordered with High Tea tickets will be available to collect on the day.
DATE:
Sunday 27 August 2023 (12:00 – 2:30pm)
LOCATION: Peel Manor, 164 Fletcher Road, Karnup WA 6176
All Ambulance Wishes are FREE, however, the volume of wishes that can be fulfilled is dependent on donations and fundraising.
Ambulance Wish Western Australia receives no Government grants or funding and is completely dependent on corporate partnerships, donations and community fundraising to ensure its outcomes are achieved.
Every dollar helps us fulfil final wishes. We run entirely on charitable donations and are managed by volunteers. All donations go to running Ambulance Wish Western Australia and fulfilling last wishes. To be able to continue, expand and improve the final wish programme we require continued funding.
All donations of $2 and over are tax deductible in Australia.
Ambulance Wish Western Australia Inc. is registered with the Australian Taxation Office as a Deductible Gift Recipient (DGR). Charitable Fundraising Licence No CC22633.