Ambulance Wish WA's second Wish Ambulance, Kees, which will be used to convey terminally ill West Australians on their final wishes, is now operational following its commissioning phase and joins Wish Ambulance Hydi, enabling the charity to now fulfil two final wishes a day. Since the donation of the decommissioned ambulance last year, it has received a new vinyl livery, been medically serviced, had new medical and mobility equipment installed and, following its oxygen system certification last week, was washed by the charity's Youth Ambassador (and their minions!).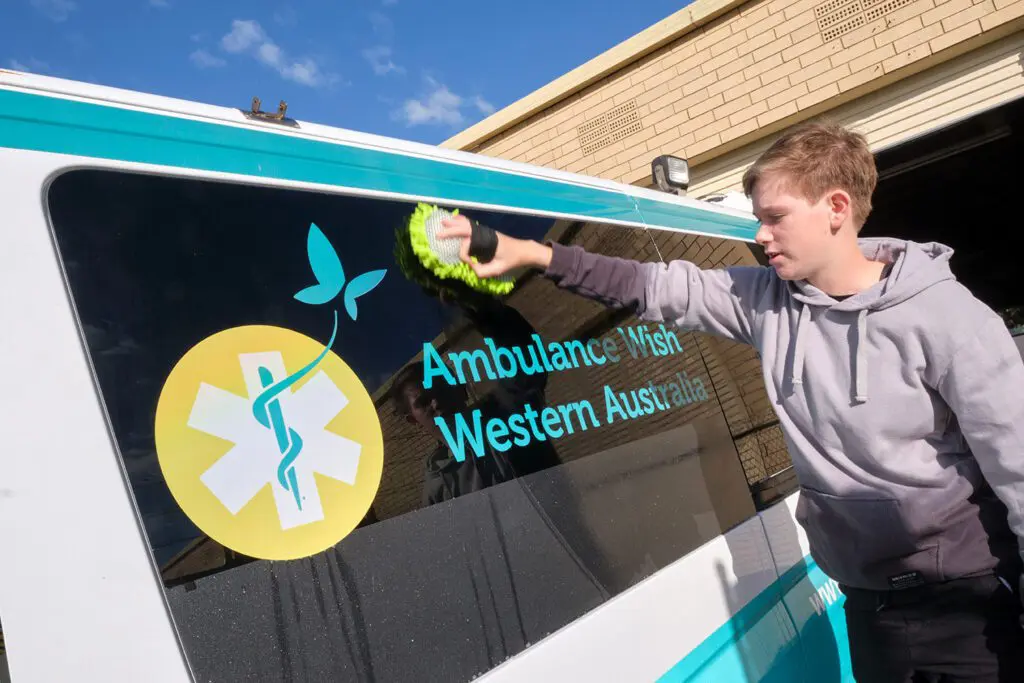 The final wish service was launched in October 2021 and has since undertaken numerous wishes around Perth and the South West, including conveying a wish recipient (Rochelle) from an Intensive Care Unit (ICU) to her son's wedding – about which her husband, Jeremy Hubble, said "I cannot thank the team from Ambulance Wish WA enough for the incredible generosity and good will shown to transport my wife to our son's wedding… This singular act has meant so much, not only to Rochelle and our son Kieran and daughter-in-law, Grace, but also our extended family and a very large group of friends and colleagues…" and CNS, Tor Topping, from Joondalup Health Campus, stated "Thank you so much for your help and support in getting Rochelle to her son's wedding. All the staff at JHC ICU are very touched and appreciative…"- a sentiment echoed by the volunteers who had the privilege of transporting her and witnessing the joy her attendance invoked.
Other wishes include a trip to the zoo with their family; a swim in the ocean in Busselton; an opportunity to return home near Augusta for a few hours to say goodbye to her dog and family; and returning home to receive a final blessing surrounded by family.
Susie Wilson, chair of the charity's management committee, said "I am so very proud of our team who have worked very hard, with help from our friends and supporters, to ensure that both of our generously donated vehicles can be set to work fulfilling wishes. Kees' commissioning not only allows Ambulance Wish Western Australia to fulfil two wishes a day, the fact that it is an automatic transmission, as our other Wish Ambulance, Hydi, is a manual, means that more of our volunteers will be able to experience fulfilling a final wish themselves.
"This Wish Ambulance was named in honour of the late Kees Velboer, creator of Stichting Ambulance Wens (Ambulance Wish Foundation, The Netherlands) and a huge inspiration in the development of Ambulance Wish Western Australia."
Ambulance Wish Western Australia provides a no-cost, donor-funded service to support people in end of life care to visit a place of personal significance. It is intended to not only bring joy to the individual, but to also ensure beautiful memories for their family and friends. The service creates significant positive impacts for terminally ill West Australians and their families.
The charity's mission is to give people living with terminal illness, regardless of age, the resources, specialist transport and medical care they need to fulfil their final wishes, with no charge for the recipient – improving the quality of the dying experience for the individuals and their families. Previously, terminally ill and palliative West Australians, who are often immobile, were dying without being given the opportunity to fulfil their last wishes because there was no means to transport them out of their hospices or homes.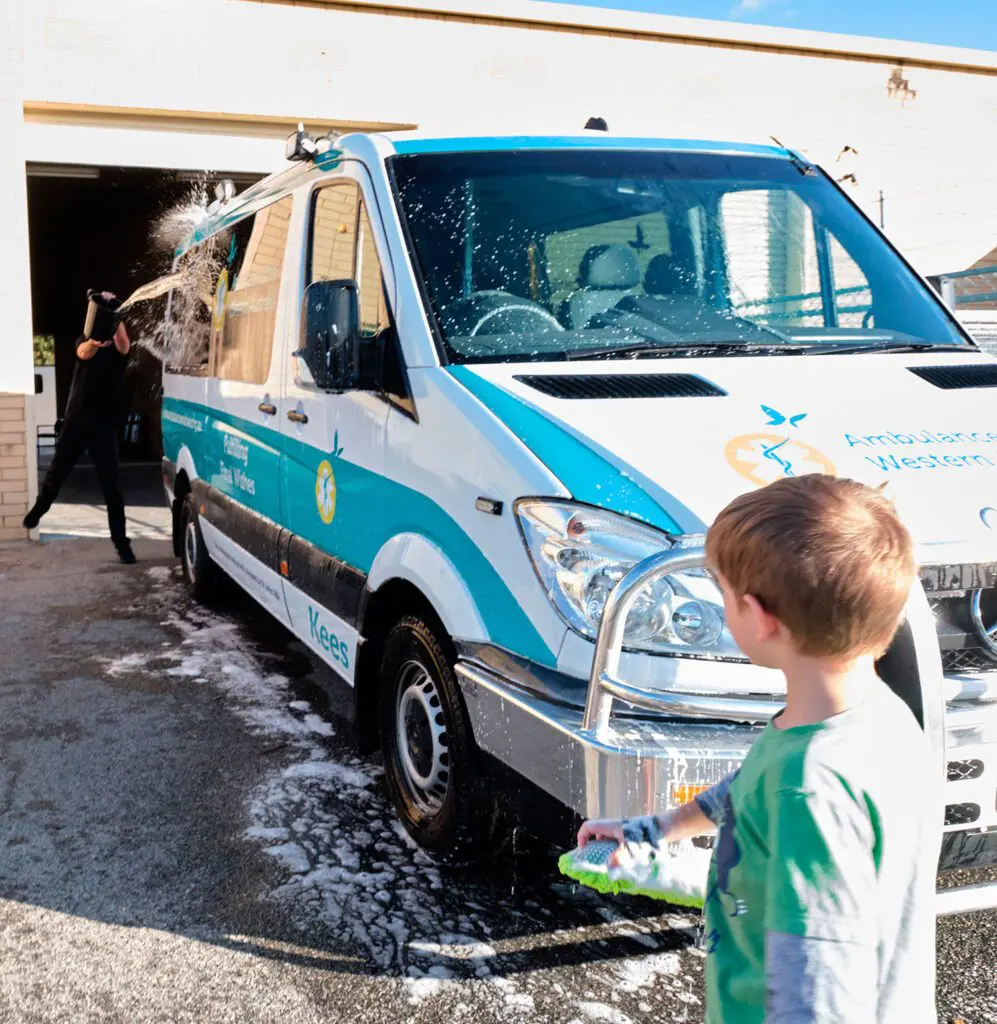 For people with terminal illness or in palliative care, a simple chance to reconnect with their lives in their final days can mean the world. Ambulance Wish Western Australia will give them an opportunity to visit a place of personal significance – whether that's to admire their own garden, to feel the breeze of the ocean, or to simply be surrounded by their loved ones and pets. Journeys are focused on Wish Recipients and families making new memories as well as enjoying their trip down memory lane.
"That is where Ambulance Wish can make such a difference, customising and honouring wishes to celebrate a person's life and bringing comfort to those closest to them – acknowledging that great care includes physical, mental and spiritual and extends beyond the individual," said Mrs Wilson.
"Ambulance Wish Western Australia will try to bring peace to the final period of critically ill, immobile West Australians and to ease the grieving process by eliciting and implementing a wish identified by individuals, families or clinicians. The Ambulance Wish programme seeks to provide care, even after accepting that death is imminent, by fulfilling wishes that celebrate a person's life and passions. This can ease grief for families by providing a means for them to support their loved ones, and can allow clinicians to provide something for their patients even when they are unable to do so medically. Fulfilling wishes for those who have little time left will leave a lasting and memorable impact on all those involved."
Ambulance Wish Western Australia is a dedicated, volunteer-run and donor-funded service and Wish Recipients are accompanied by qualified and trained volunteers. The volunteer team eases the suffering of the terminally ill by allowing them to experience joyous family occasions, visit family and friends, meaningful places, or do simple everyday activities that would otherwise be out of reach.
Ambulance Wish Western Australia is a member of the global Ambulance Wish Foundation (AWF) community, which was born in Rotterdam in 2007. Ambulance Wish Western Australia is one of only three Australian organisations to bring this service to our shores, with Ambulance Wish Western Australia becoming the first service of its kind to operate in Western Australia.
During an individual's final months, weeks or days, Ambulance Wish Western Australia will make it possible to bring them joy and comfort through visiting a familiar place that reignites precious memories, or fulfilling something special on their bucket list that can give them a sense of achievement and excitement. It will also be possible to gather family and friends to create a lasting memory, one last celebration of their loved one.
Wishes can be requested through the Charity's website.
Fulfilling wishes, celebrating lives!